London Art Fair 2022
:
Business Design Centre Islington
Past exhibition
Cavaliero Finn was delighted to return to the London Art Fair in April 2022 at the Business Design Centre in Islington participating in the curated 'Platform' section of the fair.

Platform 2022 explored the theme of 'Music and its part in contemporary visual arts'. Cavaliero Finn presented work by painters David Edmond, Tony Beaver and Helen Ballardie and ceramicist Barry Stedman, all of whom created new pieces in response to this year's chosen theme.
About the work on show at Cavaliero Finn's stand at London Art Fair 2022
David Edmond
Legendary London Music Venues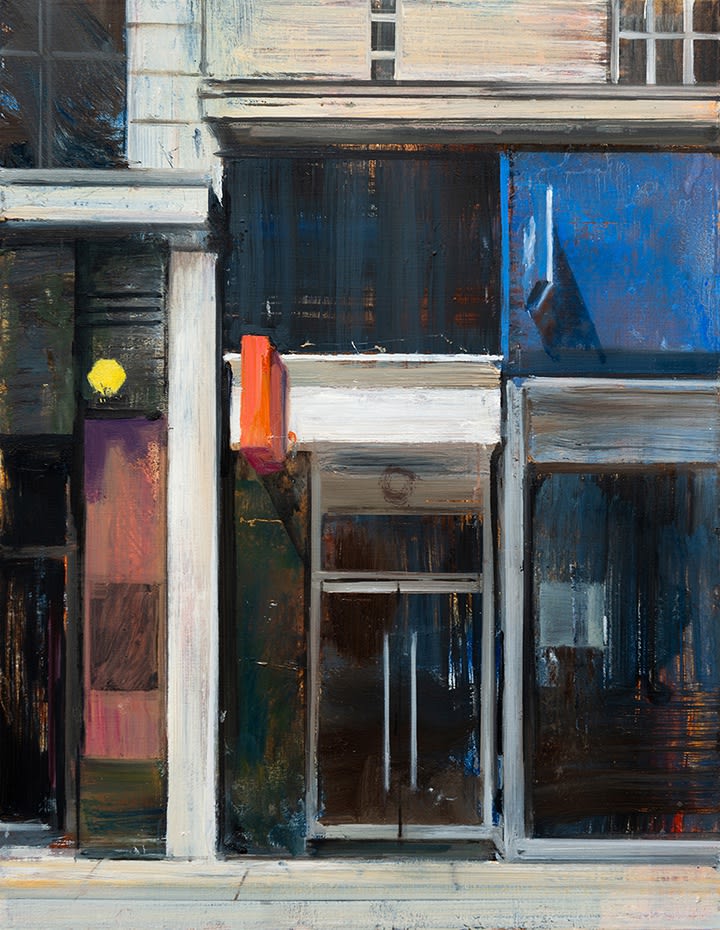 David Edmond's street paintings portray some of London's much loved music venues which have had a difficult couple of years after having been closed to their performers and audiences during the pandemic lockdowns. David has painted over 20 music venues including The Forum, The Garage, The Royal Albert Hall, The Royal Opera House, Ronnie Scott's, Brixton Academy and The 100 Club.

His close cropping of each venues facade and the straight on view point emphasises their abstract and geometric qualities and the stillness of the period while they were closed to the public during the lockdown. Some are immediately recognisable and some are more discrete, but each is recognisable by those who know and love them. We recognise the Victorian building with its ornate terracotta façade totally unique to The Royal Albert Hall. The Garage, once a billiard hall, is recognisable for its red awning and neon signage which pops out of the painting, the ornate signage almost at odds with the brutal geometric architecture. Other paintings are more obscure and abstract and may be harder to recognise, as the venues have little signage. London's iconic 100 Club, nestled between some rather unremarkable shop fronts is just recognisable for its red sign which has been outside and trading under the same name since 1964.

David approaches each painting in a different way, very much reflecting the textures and fabric of each building. Some are stippled, some are thick impasto and some are thinly layered. The layer and glazes of paint have been dribbled, flicked, pooled and brushed, in parts thickly applied in others thinly. For some, he mixes turps with the oil and paints on the floor to achieve a slightly glossy surface as seen in the reflections in some of the windows. David brings his own unique voice to these buildings, spotlighting characteristics and giving us access to more than we thought we knew about these legendary venues.


Tony Beaver
Music legends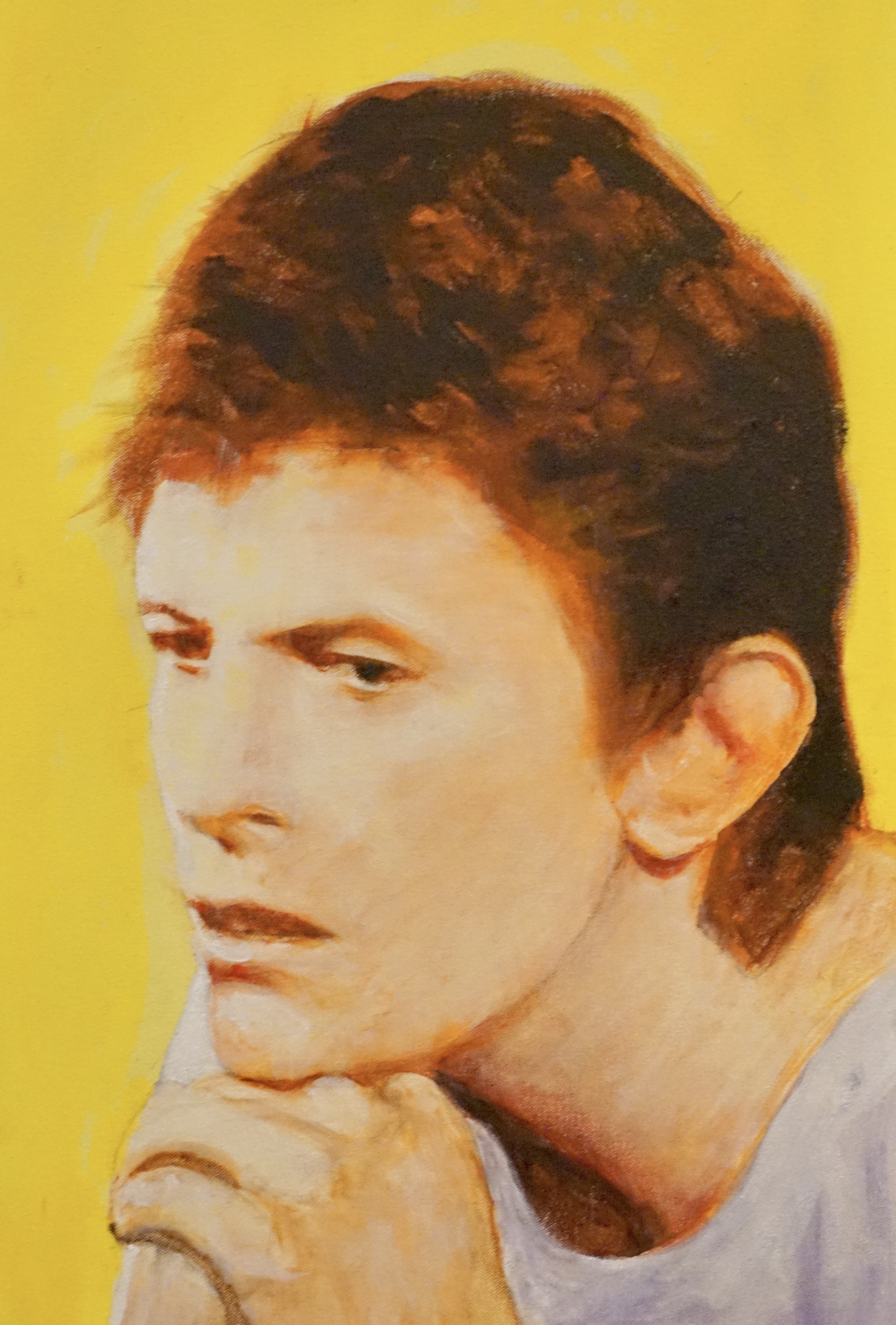 Tony Beaver has painted a series of portraits of legendary musician David Bowie in response to this year's theme for Platform.

A consistent theme in Tony's portrait work is an exploration of Britishness and eccentricity, having painted national treasures like Tommy Cooper and Kenneth Williams in the past, so the choice of David Bowie as a subject is perhaps not a surprising one.

There is always a danger of descending into pastiche when one chooses to paint portraits like this yet Tony's portraits are anything but. He is not interested in making poster like representations of the people he paints, instead he seeks to look beyond the public image giving us a glimpse of the human being inside.

The man we see portrayed in this series is not Bowie the celebrity, the man of many faces. This man is depicted in ordinary clothes, his face devoid of make-up and the various personas he invented and there's a tenderness and vulnerabiltiy in his expression and in the rendering of the eyes that reminds us he is human. In this way, Bowie is liberated from the trappings of his international stardom so we see the man behind the fame. His use of fiery reds and oranges in the work are the only indicator of the creative fire within.
Helen Ballardie
Music as a motivator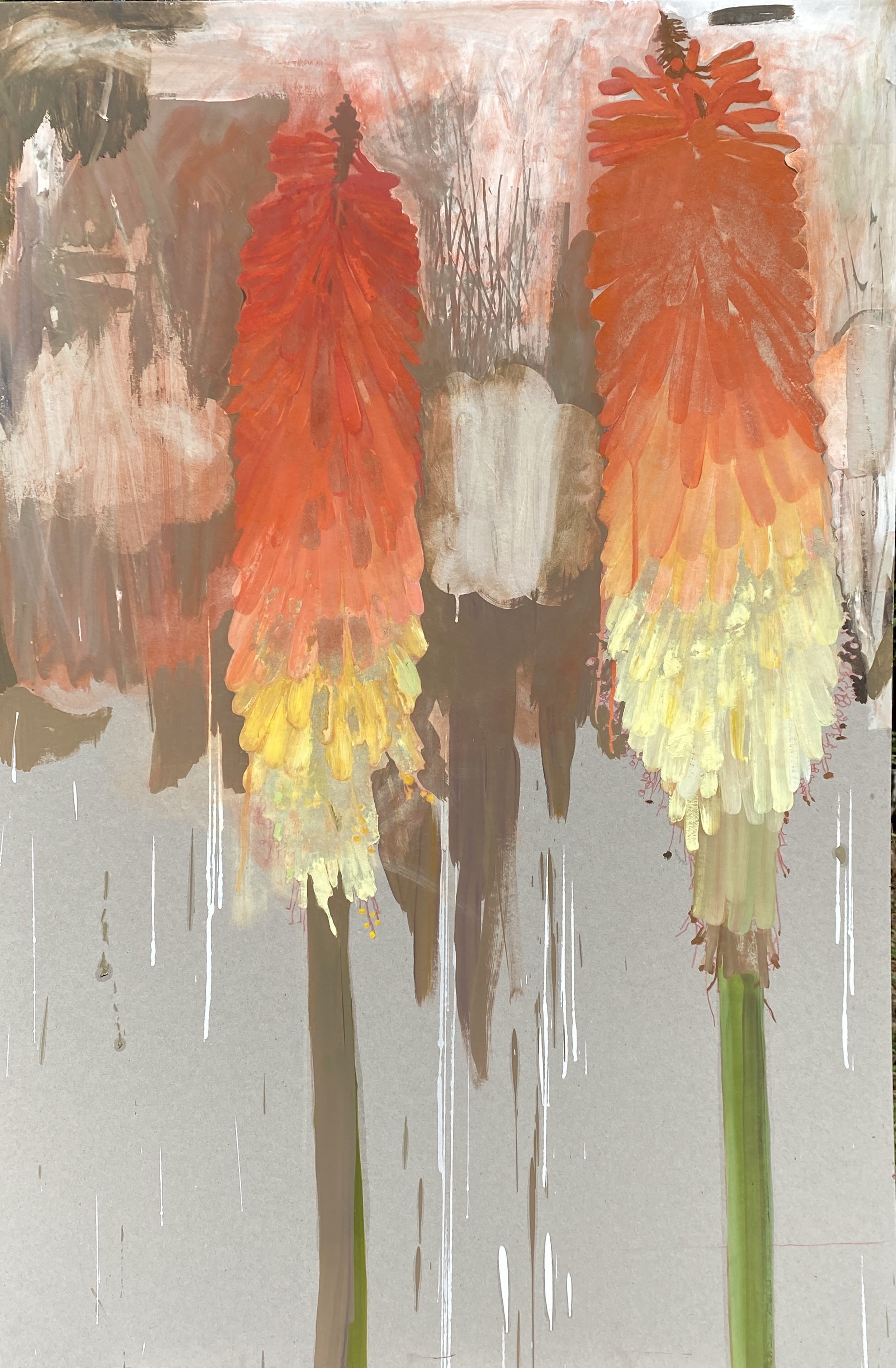 For the London Art Fair Helen Ballardie has been painting a new Garden Series to music, painting the subject matter that she sees before her, the landscape that surrounds her.

As the pandemic hit, it coincided with the artist having her first garden. Looking back over the past few years, it seemed that much of what was important was out there - small flowers, birds, insects, all surviving and thriving year after year, sprouting new buds and hatching, the cycle of life happening before her eyes. Helen spent a lot of time studying them, filming and photographing them, studying behaviours of birds, listening to their calls, redirecting and rehydrating the insects, bees and birds that had run into trouble. Alone in her garden with nothing but her music and the nature that surrounded her she felt truly immersed in this busy world especially in the absence of people. Tiny things became very large in her life and this subject matter started to spill over into her paintings at the same time.
The Garden is a loose term as the inspiration in reality is a vast wild space, overgrown, and used as an extension of a field for grazing cows. Within this landscape there is woodland, even an orchard. The word garden implies a smaller more contained space but this area is wild and untamed at times, a constant source of inspiration.

Helen was struck by this magical overgrown garden where all of nature seemed to be fighting for the sun. From the flowers to the birds in the trees it seemed everything in the garden was putting on a display for its attention. Many of these subjects she paints as part of what she calls her poster series on cardboard, as she liked the idea of them being posters sending out their messages. There are also elements of wallpaper incorporated into the work inspired by fragments she found in the house from times gone by. In this poster series the three dimensional view she sees becomes flattened and, as in all of her work, she incorporates elements of abstraction and mark making.

Helen likes working on different media - for the large Green Golden Daisies painting she worked on the canvas unstretched against the wall, enjoying the hard surface beneath that allowed her to really scratch into it and be a lot less precious, introducing new materials into the paintings too, with pencils and chalks. She even incorporates real flowers into this work which is a natural continuation from her past Spring Series where the flowers were painted in a flat form as if pressed in a book. By introducing real flowers there is this sense of preserving time, capturing a moment in time forever.
Barry Stedman
'Playing Live' series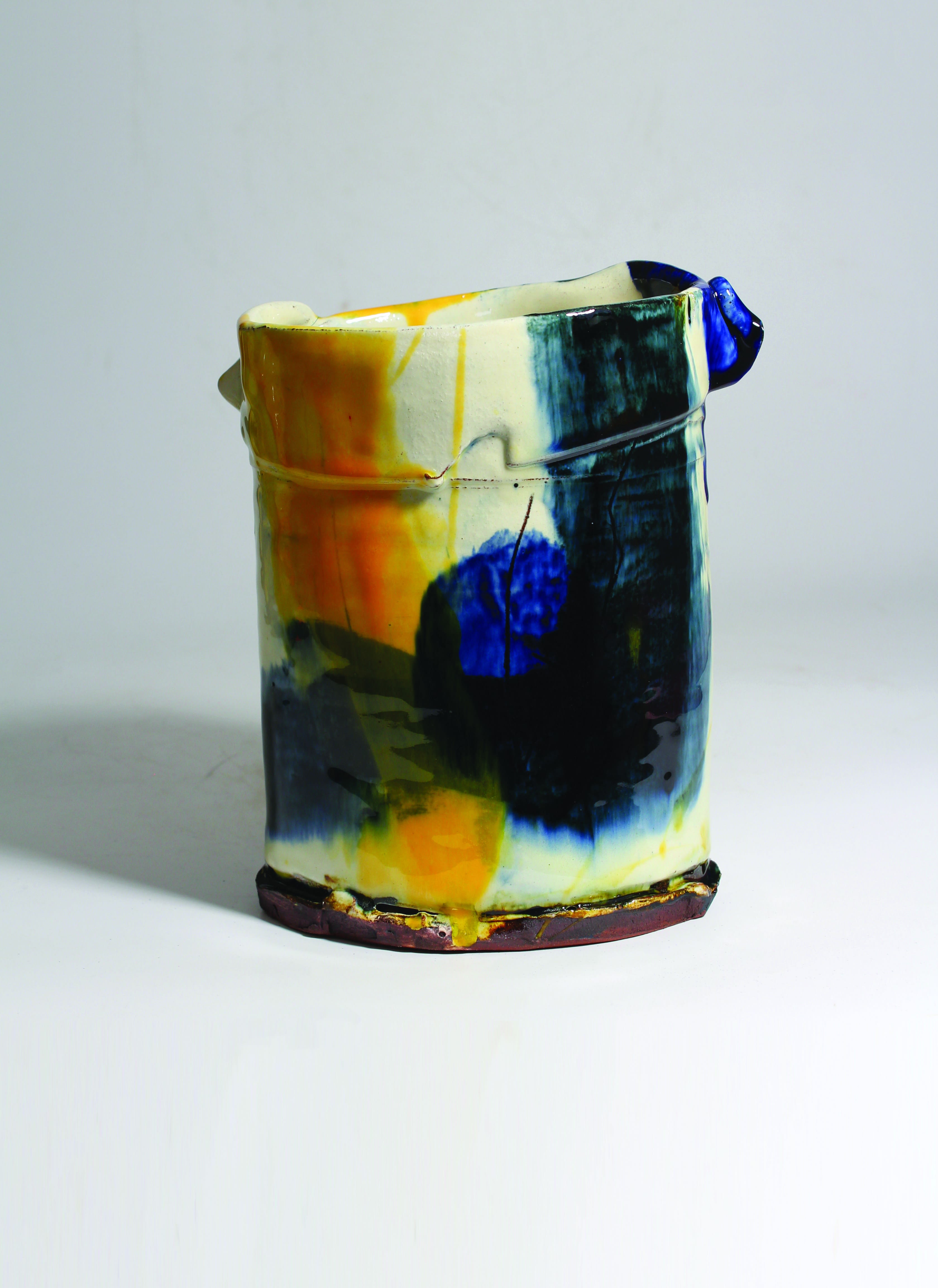 Featured alongside Helen Ballardie's paintings, Barry Stedman's ceramics are also inspired by music, in this case by Modern Jazz.

Most of Barry's vessels are made by throwing on the potters wheel. The artist likes to take a form, feel the material and push and pull it into something else, searching for a feeling that seems to fit and have life. Barry works quite quickly and spontaneously. This seems to him to have a direct connection to some of the modern jazz that he loves listening to and he particularly likes live playing. In this body of work he wants to try and bring across a sense of 'playing live', allowing things to happen in the moment. Barry likes to build up layers of colour and texture almost like overlaid sounds and he enjoys creating contrasts with rapid fine marks and big lush brushes of colour, that may be akin to bright high key notes. He says he feels a sense of rhythm in the way an undulating rim flows round a form and the brush marks interject colour and moments of pause, speeding up and slowing down, and although what results is a static form, he hopes to express some of the sense of drama and excitement that he feels from listening to music. In the same way that abstract painting often references music, the forms and marks on his vessels have a certain musical feel. He says his work "feels like it has rhythm and movement, bass note colours and marks, high notes and contrasting visual sounds."